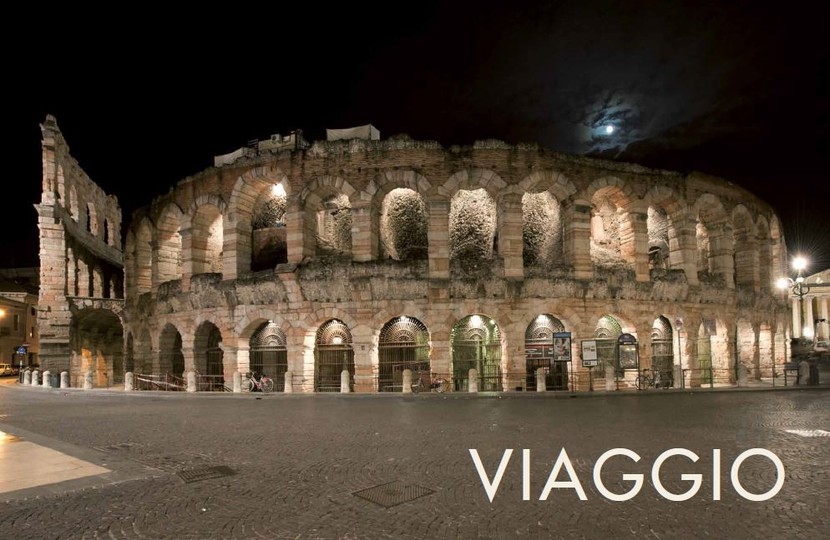 Verona is one of the most famous cities in Italy, next to Rome and Venice. It is old, but its beauty is still touching, its splendour testifies to many great moments and a long history. Verona owes some of its oldest stone witnesses to the ancient Romans, first of all its landmark: l'Arena di Verona. The large, impressive and picturesque amphitheatre stands in the middle of the city, in the Piazza Bra, and radiates grandeur and splendour, as if time had only made it more beautiful. In ancient times gladiators fought here, today it is one of the great opera stages of the world. Anyone who has ever sat in the old stone tiers, in one of those much sung about Notte Italiane, under the vast starry sky, will never forget the experience, whether it was an opera performance or a concert. Because not only opera stars love this old, big stage, also rock and pop stars or cantautori love it.
But Verona gained world fame through an Englishman: William Shakespeare. His tear-jerking love story of Romeo and Juliet, dissolving into destruction and drama, has preoccupied mankind for over 400 years, plunging generations worldwide into fits of tears. Shakespeare chose Verona as the setting and created a place of pilgrimage for lovers, happily or unhappily united. Not far from the famous Piazza delle Erbe stands Juliet's reputed childhood home, a monumental structure built by the Del Cappello family. For the most famous balcony in the world, however, it needed tutoring, this was only added later for the many tourists. Also, it is basically not a balcony, but part of a stone sarcophagus. Antonio Avena, former museum director from Verona, wanted more drama and scenery. He was a creative man and in the 1930s breathed new medieval life into a former run-down tavern, sprucing it up with an archway, rose window and this very balcony. Even though you know it's staged, you can still believe it could have happened here, here, where you can touch and feel the centuries, where balmy summer nights inspire the senses. It's so convincing that lovers from all over the world still ask Julia for advice and pin hundreds of letters to the wall. The writing club, by the way, that answers those little letters on Julia's behalf in the cheesy Hollywood flick actually exists. All the many love hopes are neatly collected and answered by volunteers of the Club di Giulietta. They offer nice insights on their Facebook page.

Once a year, Verona is the big stage for the wines of Italy. When the big international fair, the Vinitaly, opens its doors, it attracts collectors and wine lovers from all over the world, it is the stage for Amaroni and Baroli, for big and small stars from the wine country Italy. Verona is also pleasure. And joie de vivre, with many bars and cafés and beautiful promenades. Who can claim to have marble shopping streets? Verona has them, just like that from the Piazza Bra to the Piazza delle Erbe you walk on the finest marble slabs. And then you're standing in one of Italy's most beautiful marketplaces, the Piazza delle Erbe, surrounded by picturesque Renaissance palaces and guarded by a Romanesque campanile. Just outside Verona, within a stone's throw, is Lake Garda, Italy's largest and, for many, most beautiful lake. With its gentle hills and Mediterranean climate, the 370 square kilometre lake is an ideal destination for excursions and holidays. To the north it borders on the southern limestone Alps, the southern shore merges with the Po plain, and if you turn east you can choose between the three great wine-growing areas of Valpolicella, Bordolino or Soave. It is almost as popular and sought after by tourists as Verona, but you can still find a place to soak up that very special feeling. A piece of bella vita from bellissima Italia.
Picture: Flavia Vergani | Text: Domenica Flütsch
Are you interested in more articles of this kind? Add our latest Edizione Vergani magazine to your shopping cart for free at checkout or subscribe to our newsletter.